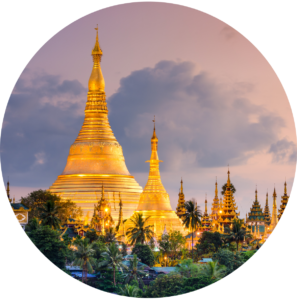 Official Name of the Country: 
The Republic of the Union of Myanmar (also know as Burma)

Capital City: Naypyidaw (since 2005)

Largest City: Yangon

International Airport: Naypyidaw, Yangon, Mandalay

Population: 54 million as at year 2019
Myanmar has three main seasons, hot season, rainy season and cold season. 
                    Hot season – March to May
                    Rainy season – June to October
                    Cold season – November to February
Time Zone: GMT +6:30 hours, 1:30 hours behind China, Singapore, Hong Kong

Country Code: +95

Internet Access Code: .mm

Electricity: 200 volts AC, 50 Hz
The long boat races, the rowers standing upright and rowing with an oar attached to one leg in Phaung Daw Oo Festival.
The major language is Myanmar, but minority ethnic groups have their own languages.  English is widely spoken and understood.
Majority are Buddhist and there are Christian, Islam, Hinduism and others.
Myanmar is made up of 8 main national races, Kachin, Kayah, Kayin, Chin, Bamar, Mon, Rakhine and Shan.  And there are more than 100 ethnic groups, some of the Ethnic groups are listed as Akha, Palaung, Padaung, Naga, Taron, Eng and many more near extinct tribes.